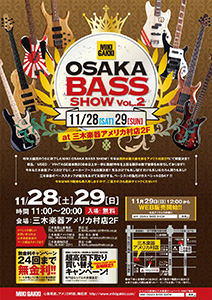 Miura Guitars will be participating "MIKI OSAKA BASS SHOW VOL.2", hosted by MIKIGAKKI Corporation.
This big sales event holding a line up of more than 200 basses, both aged and modern, will take place at Miki Gakki, Americamura 2nd Floor on November 28th and 29th. Miura Guitars basses are going to be displayed as well.
Our master builder, Hiro Miura will be visiting from Los Angeles to join the event. Anyone who is interested in Miura Guitars basses, would like to try them out, and/or want to talk to Hiro Miura in person, please feel free to stop by.
For more information, please refer to this page: 「MIKI OSAKA BASS SHOW VOL.2」公式サイト